the problem: stunting
Stunting is about more than just being too short. Stunting prevents children's bodies and brains from growing to their full potential, leading to lifetime deficits: more illness, lower levels of education, increased poverty, and early death. After the age of 3, the damage is irreversible. Giving children good nutrition during their first 1,000 days of life makes all the difference.
Guatemala has the worst stunting rates in the Western Hemisphere, with 50% of children stunted. By breaking the cycle of chronic malnutrition, we can help the entire country grow and reach its full potential with a new generation of healthy children.
PARTNER & PROJECT LOCATION
Semilla Nueva is an agricultural development organization who experiments with sustainable innovations and brings them to rural Guatemala, using their extensive farmer-to-farmer network. Appleseed works with Semilla Nueva in 40 farming communities in the departments of Suchitepéquez and Retalhuleu, in the Pacific coastal region of Guatemala.
the CHALLENGE
Guatemalans eat corn tortillas at every single meal. Unfortunately, corn is a poor staple crop: it is low in nutrition, especially in protein which kids need to grow. In 2015, Semilla Nueva decided to give farmers of a type of corn seed called Quality Protein Maize (QPM), a non-GMO corn that is biofortified with high levels of protein. Problem solved, right? Not quite.
While Semilla Nueva had the right solution, they found that getting farmers to actually plant a new seed was not so simple. Farmers are risk-averse, and the message about protein, malnutrition, and nutrition wasn't working. People with little education aren't familiar with these concepts. Also, Mayan beliefs say men are made of corn, so most assumed all corn to be nutritious already. We needed to find a way to overcome these barriers, and uncover the motivators that would get farmers to try, and then love, QPM.
Applying our approach
We first conducted home health visits, farmer focus groups, and community -wide surveys. We heard what people believed, what they were planting, what they were eating, and why. We also discovered what matters most: providing for the family, having strength, eating delicious tortillas, and avoiding the pains of hunger.
Working closely with Semilla Nueva's field team, we created a new brand for QPM called: FORTALEZA, the maize of strength. We also produced all promotional materials needed to carry the new brand forward. Below is a gallery of some of the materials.
Our findings let us design a social marketing strategy to get biofortified high-protein corn into the hands of farmers and the bellies of children. We made a plan to prove the new corn to farmers, and show them why they should prefer it to what they normally planted.
We launched FORTALEZA with a Farmer Field Day event, where leaders from all our communities came to see the plants, try the tortillas, and hear FORTALEZA's story. And it turns out we struck the right chord! Several spoke from the heart, about how this new corn would solve many of their problems. By the end of it, they were eager to go back to their communities and spread the message, via word-of-mouth and posters we created.
Gallery of Materials
Promotional Poster used in all communities at local stores and maize mills to announce the new seed brand and show how farmers could obtain the seeds in 2016
Seed Certificate to give people something to hold onto while waiting for the seeds, and to convey the value of the seeds
Seed Bag label to reinforce the brand image and message
Growth Chart given to parents to track the growth of their young children at home, alert them of possible child stunting, and remind them of FORTALEZA corn for years to come
Visit this gallery to view full-sized images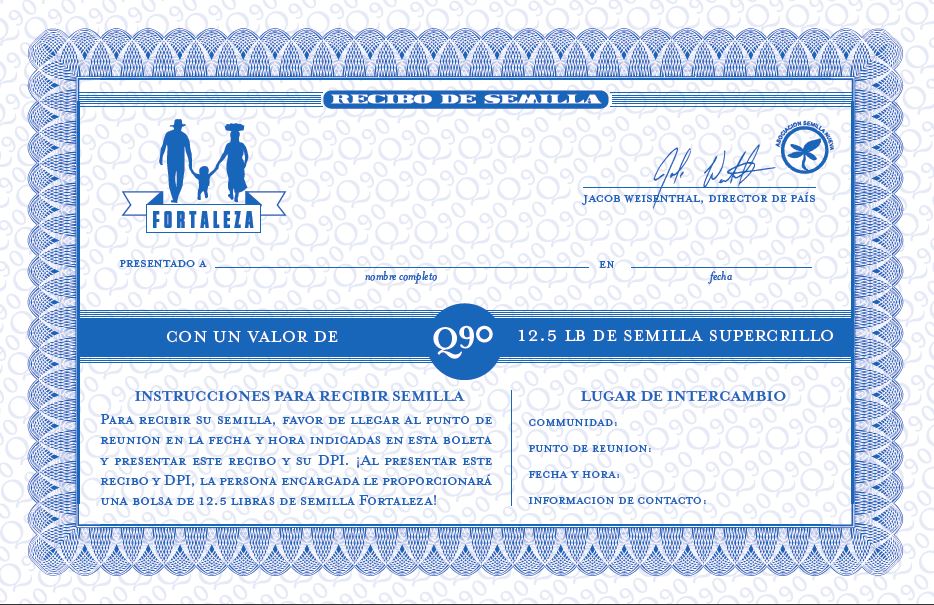 what we've achieved together
The day we launched FORTALEZA, we not only introduced a new biofortified corn... we started a social movement, one which gives people hope. Now, FORTALEZA's message continues to spread. This year, 3,000 families have received FORTALEZA seed, enough for 18,000+ people to eat FORTALEZA and add essential proteins to their diet for an entire year. And seeds saved can be replanted next year. All the families who were part of our study had their children seen by a doctor, and many were treated for parasites, infections, and other health problems. Also, 500 families received FORTALEZA growth charts, allowing them to take responsibility for measuring their child's growth, and know when better nutrition is needed. We are beginning to see the impact of FORTALEZA on child nutrition and growth. While there is still much to be done, now our partners finally have something solid to stand on and build from.